Gramvousa, Balos Beach
Gramvousa Express Boat Plying Amazingingly near the Cliffs! I would have loved to be on it and experience the cliffs that near. The Watermark of the Old Coastline (i.e. before Crete was lifted out of the water several meters by a natural event) is Clearly Visible here
Picturesque Wreck in Gramvousa Harbour
View looking down from Gramvousa Fort. This batch of passengers has almost made it to the top
Long Antline of boat passengers leading up to Gramvousa Fort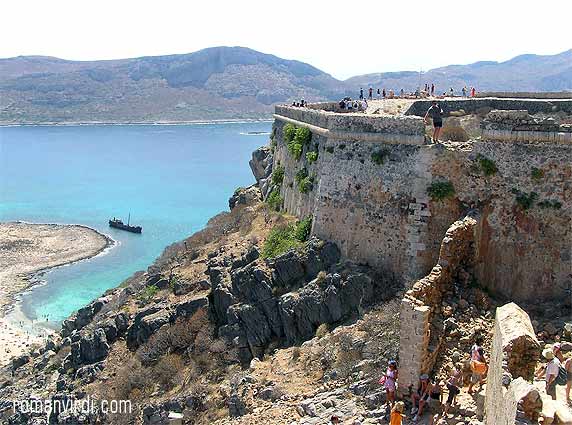 At the top of Gramvousa Fort
Here's what it looks like on the top of Gramvousa Fort
Gramvousa Beach
Inside the Small Church at Gramvousa Harbour
Gramvousa Fort viewed from Balos Beach
Cave to the left assumed to have once been an ancient Shipyard not far out of Kisamos Harbour
Balos Express at Balos Beach
19. August: We were told by the daughter of Kostas to visit the northwest coast only if there was no wind in Stavros. Today was calm, so we set off towards Kisamos-Castelli for a boat trip. Boats set off at 10:15 daily to Gramvousa and Balos beach.
We were a trife short of time but decided to risk it. Driving through the town center chipped away mercilessly on our time budget and outside of Hania driving westwards, we were looking to take the highway to Kisamos. There was a large crossing signing "New National Road" left, but just a bit later "Kisamos" straight on. I wrongly bet on the Kisamos sign which wrongly led us along the slow "Old National Road" along the coast and through village after village of slow moving traffic. We tried to cross over back to the New Nation Road running parallel to the old one but were successful only after a mind-numbing drive following creeping cards through busy urban areas.
At last on the highway the speedometer could let loose and till the last few minutes we thought we would never reach in time. Reaching the port at Kisamos, we found the boat still ashore, crammed with people, and we signaled that we wanted to get on. Annewien hopped out to buy tickets and I parked the car and grabbed out rucksacks and Andres.
We boarded and the ship left shore moments later. There was hardly anywhere to sit on the whole ship due to it's being filled to capacity, and it wasn't that easy to keep following Andres around on his expeditions of the ship. Soon after we left the harbour the boat neared some cliffs with an immense cave in them, thought to be an ancient shipyard. It was quite high up in the cliffs and below, a stark horizontal line was explained to be the former sea level before the whole of Crete was lifted several meters above the sea several thousand years ago. Another large boat which had left the harbour about the same time as ours was sailing very (very!) near to the cliffs and it looked quite dramatic even from the distance.
Sometime later we reached Imeri Gramvousa, actually there two islands called Agria and Imeri Gramvousa (wild and calm). A shipwrecked boat lay rusting in the harbour.
There's a Venetian fort on the top of the hill and we were told we could climb up to it and also swim in the shallow waters of the island. We decided to do both, and so set off first to climb the hill to the fortress. The noonday sun was out again in force, and I carried Andres on my shoulders part of the steep way up until Annewien took over and carried him in the backpack. The final part Andres was on my shoulders again. Much of the path consisted of stone steps which were a trife high for my untrained legs, so it was a bit of an effort (which produced a lot of sweat) till we reached the top. There was no shade neither on the way up nor in the fort (save the entrance gate).
It seemed most of the boat's passengers wanted to see the fort, and there was a long winding ant's trail of people climbing up the hill single file which looked impressive. The fort has a chapel in it's center but not much more, so we walked it's perimeter to enjoy the views down. They were breathtaking! High up above the sea, you could see parts of the mainland and other islands, a very atmospheric view.
The way down from the fort was much easier and quicker, me being used to a fast tempo I had Andres on my shoulders and almost ran down the hill like a mountain goat. Profusely sweating when at the beach, I had to get into the water to cool off, even though the boat would leave in about half an hour.
All three of us hit the water, which was nice and shallow, had large sandy patches with rocks in between and some sandstone-like slabs about 10 meters out created a barrier against the waves. Andres loved the water! When we were preparing to leave the water again, Andres suddenly started yelling and he had something like a fanged bite with two punctures on his bottom. We had no idea what it could be, but it was really hurting him. I took him on my shoulders and we headed towards the boat.
Once onboard I looked again and his bottom now had a large raised inflamed circular area, about 10 cm in diameter, all turned white. I looked around for a crew member but the Captain had already seen it and heard Andres yelling and said "follow me to the bridge". There he said it was a jellyfish wound and thickly applied some anti-histamine jelly. It wasn't dangerous, he said, but painful, except when someone had an allergy to stings.
Andres had stopped yelling but it was clear that he was still hurting badly.
This is what trying to sit on a rock occupied by a jellyfish can do to your bottom (our son Andres, 2 years old)
Our next stop was Balos beach, which is actually a huge lagoon with 20-30cm deep water. Andres was recharged and he loved splashing in the shallow, clear water.
The boat trip back was uneventful, and we were careful on the way back to get on the "New National Road".
By the time we were in our apartment, Andres bottom was still swollen and had turned bright red. Christina identified it as a jellyfish sting as well and brought us some ointment, the same one which was applied on the boat.
Hania (20. August)
Street in Old Hania
Restaurant Sign, Hania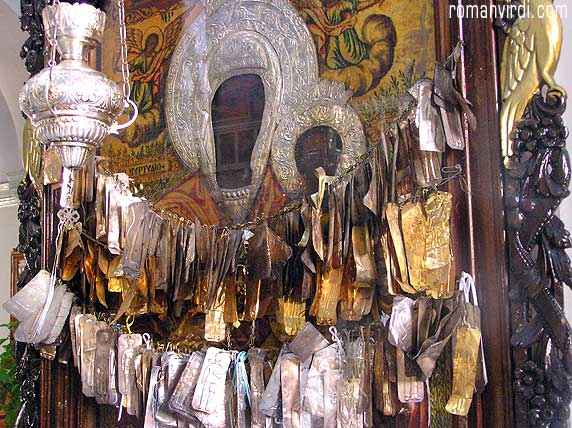 Madonna with Tags depicting Healed Body Parts on Madonna in Hania's Orthodox Cathedral
Restaurant Doloma Sign, Hania
Hania Church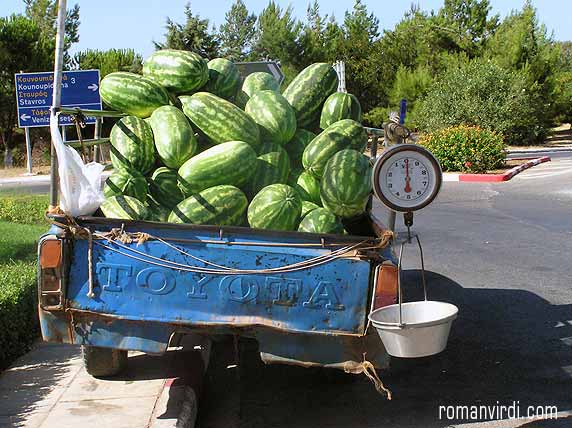 Watermelon Shop on Wheels, between Hania and Stavros
Bike Riders, out of Hania
Nighttime view from our Room at Paradisio in Stavros
We wanted to explore Hania (the H is spoken like the Spanish J, and Hania is sometimes also spelt Chania), but first we visited a drugstore double-check on some medication for Andres since he was still in pain (we'd given him some pain reliever for the night). The injury was diagnosed in an instant once again and we got some cortisone cream with antibiotic in it. Heavy medication, but after a check with our doctor, it seemed to be the right thing to do.
We walked around the old part of Chania, along the path to the lighthouse in the harbour, and had some ice-coffee in the Taverna just before the lighthouse.
They had a ferry to ship us back to the harbour and from there on we made our way to Doloma Restaurant. They served a basic but very tasty lunch, highly recommended!
Later, we strolled some more through the delightful streets of old Hania and managed to get lost. We stumbled on the Orthodox Cathedral, then started on our way back to Stavros when Andres started to wake up from his short snooze.
We spent the rest of the day back at the pool.