Drive to Plakias over Imbros Gorge
Sloppy Loops of Road leading down to the Sea, after Imbros Gorge
Restaurant Sign near Imbros Gorge
Bas-Stop and Informeison
Plakias
Plakias Beach at Dusk. A bit further east the beach turns wonderfully sandy
23. August: We were sorry to leave wonderful Paradisio Apartments, but we had to leave for Plakias for the second part of our journey. Our hosts bade us farewell and we got to sign their guestbook as well. What nice hosts!
We'd planned our route eastwards along the highway till Vrises and then south via the Imbros Gorge road to the southern coast. The drive was uneventful.
We had a great lunch at Taverna Porofarango, right at the start of the Gorge trail. Recommended! There were nice views from the road thereafter all the way to Plakias.
Again we had some problems to find our lodging at Ifigenia Apartments once we were in Plakias and only managed to locate it after asking a rental car agent.
We were greeted by a gruffly man and were led to a spacious apartment, which would have been quite ok had it not been smudgy due to sloppy cleaning. It was hot inside and I made to start the a/c but it didn't cool. We complained to the owner, but he brushed aside our complaints. "The room's clean" and "the a/c works". I had to fetch him a third time to show him the unclean toilet bowl, kitchen cupboards and floor and also that the a/c fan simply wasn't turning till he grudgingly tried to rectify the situation. "Tried" is the word, because he hardly succeeded. Annewien had to do a lot of cleaning and Andres managed to turn on the a/c such that it really cooled.
[NOTE: In 2010 Ifigenia Apartments changed ownership. I got this message from the current owner Monica Tschanz, which sounds very promising: "I took over the Ifigenia Apartments this year and so I am on the way to restart the business. It is very clean now (I am from swiss origin...). And I relaunched the tavern as a vegetarian tavern with Greek-Cretan and international cuisine, most of it from organic products, and still with very reasonable prices. Almost all of the guests I had until now, did come back to eat, or/and want to come back to the apartments because of the friendly athmosphere, the good food, etc. I know English as well as French, German and a little Italian, so I can give ideas and advice for activities and excursions to almost all of my guests."]

We had dinner at Taverna Christos, which has a spectacular sunset setting right at the beach. Unfortunately the food was mediocre, avoid. We were to discover much better Tavernas at Plakias in the following days, especially Skiroko Taverna!
Plakias Beach, Preveli Monastery, Amoudi Beach (24. August)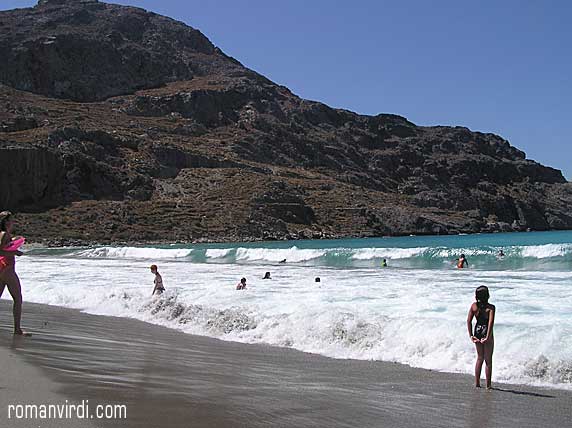 Nice Hefty Waves at Plakias Beach
WW-2 Monument near Preveli Monastery
Amoudi Beach
Plakias Beach Scene
We hadn't much of a program for the day but started off at the local beach just a short drive from the apartment. There were pretty high waves which scared Andres from ever entering the water. We both enjoyed the surf, which was powerful enough at times to roll me over till my head hit the sandy bottom.
After lunch we headed toward the Prevelli monastery, which turned out to be fully commercialized, with a 2.50 Euro entrance fee and a huge car park. No photography was allowed and I had to don airy long pants to cover my swimming trunks. The church was beautiful inside but the atmosphere of the other two monasteries near Stavros was missing.
On the road back we saw a signposted road to a beach, and drove down it. They wanted a parking fee, but since there was no beach in sight and we were still a fair height above the water we decided to turn back.
On the way back we saw a scenic old stone bridge and stopped to take a look. A signposted drivable dirt road led to Amoudi beach from there, and we gave it a shot. The ride was quite adventurous, throwing up a large dust cloud behind our car. Luckily, there wasn't too much traffic. The beach wasn't that spectacular to warrant the long drive, with lots of pebbles and a strikingly large rock in the water offshore.
Returning to Plakias, we had a surprisingly good pizza dinner at the Kri-Kri taverna on the main road.
Frangocastello, Damnoni Beach (25. August)
Scenic Bridge on the way to Frangokastello
The Land jutting out to Sea at the Top is Frangokastello
Fragokastello Castle from the beach
Inside Frangokastello Castle, an empty shell
View from one of the corner towers inside Frangokastello Castle
Judging from the sculpted emblems, this was the main entrance of Frangokastello Castle
Damnoni Beach
Today we'd head off to the castle at Frangocastello. We somehow got lost on the way out of Plakias and had a huge tour bus creeping and winding it's way through the very narrow roads in front of us as slow as a snail.
The castle is practically empty inside and consists of not much more than a bare shell. It's history makes for horrifying reading and the site does have a foreboding atmosphere about it. There's a beach just off the castle and there turned out be large lagoons where Andres again had a great time splashing about. A local girl a little over his age joined him in his frolicking.
Scam Report: Taverna Kriti, Frangokastello
Beware of the systematic scam at Taverna Kriti across the road from Frangokastello Fort. The waiter shows you the food on offer which is displayed behind glass. You are never shown the menu-card nor prices. The bill you get later is impossibly high. Demand to see the printed menu, you'll see the "real" prices in there. They'll refund you once they know they're caught.
After a snooze back at our apartment we drove to nearby Damnoni beach, which was ok/mediocre (we'd wanted to hit Prevelli beach, but somehow couldn't locate it on the map. I must have been blind).
While I was photographing some rocks close-up, a wave hit my camera which was enough to knock it out. Damn! This was my third camera which a bit of water had killed (two Sony's and one Olympus)! Dear camera manufacturers: why can't you give your cameras a bit of water protection. I don't mean immersion protection, just droplet protection. A drop or two of water seems to be enough to knock out any one of these electronic wonders.
Preveli Beach over Amoudi Beach, Kalypso Beach Hotel, Kr-eta Village (26. August)
Highly recommended Taverna Skiroko in Plakias
Pedalo boats on the river which ends at Preveli Beach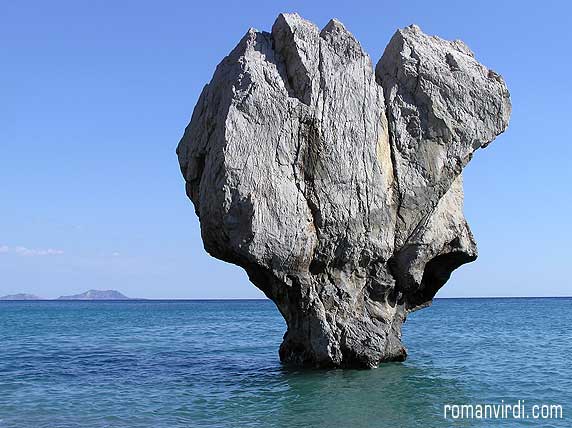 The Bizarre Rock at Preveli Beach
Spectacular Setting of the Kalypso Beach Hotel Kreta Village
Sunset near Plakias
In the morning we went again to Plakias beach, but the waves weren't that high as last time which reduced it's attractivity.
Lunch was at Skiroko Taverna at the west end of Plakias, one of the two best places in Crete we had meals at. Highly recommended! The personnel is very friendly, the place is clean and the food heavenly. Yumm!
We'd found out that Prevelli beach was reachable via the dirt road we'd driven down the day before to reach Amoudi beach - there was a footpath leading to it, so we departed it it's direction after lunch.
The dirt road seemed much shorter this time and no problem to drive down. Other drivers driving gingerly over it were rapidly overtaken. The walking path to Prevelli beach over Amoudi beach is steep up and then down again, and you gave a great view of Prevelli from above. Wow, what a scenic place!
There were quite a few people around, though you couldn't call it crowded. Behind the beach the Metapolamus river flows through palm and bamboo vegetation to finally reach the sea. People rent pedalo boats to ride upstream. There are boats unloading people daily on the beach (which is the easiest way to reach it from Plakias), but once they have picked up their passengers again, the crowd thins out. There's a large, top-heavy rock just off the beach which looks quite picturesque.
We returned the same way we'd come, and just near our apartment, we decide to explore the road leading further onwards from it. It's quite a long drive, never reaching a dwelling of any kind. Suddenly the road leads right into the Kalypso Beach Hotel "Kreta Village". Well, that's a pretty long private road!
We drive in and are struck by the spectacular location, with little private plots harboring sun chairs between two high cliffs. There are hardly people to be seen which makes the exploration a bit eerie. We walk around the outer premises and there's a small winding path leading all the way out to the other cliff top. The sun is setting and the setting is marvelous. But I could well imagine that staying this far remote from any town without a car could be uncomfortable after awhile.