Spili, Matala, Faistos, Triopetra Beach, Agia Pavlos Beach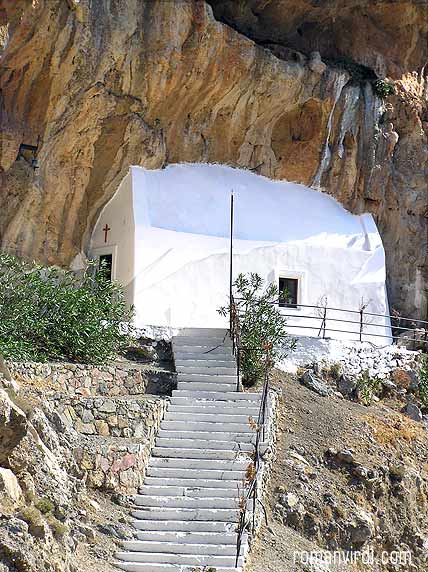 There are a lot of these Churches in the Rocks in Crete. This one's in Kourtalioli Canyon on the Stavros-Rethymno road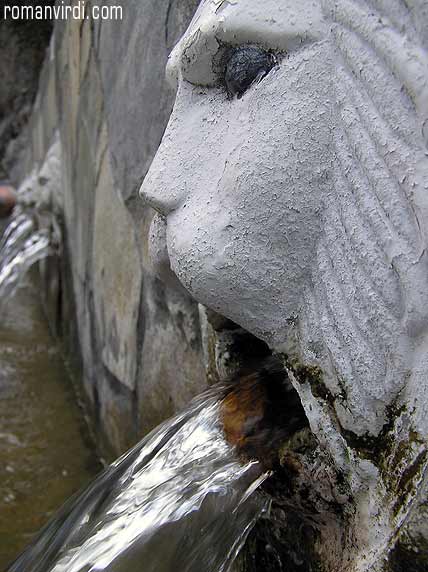 Venetian Lion Fountain in Spili
| | |
| --- | --- |
| | |
| Mugs for Sale in Spili | Shoestore Ad, Spili |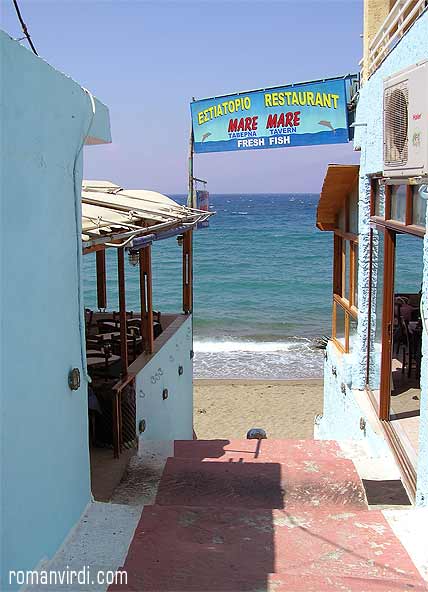 View from the Main Street at the South End of Matala
Matala Beach
View from one of the Roman Tombs in Matala onto the Beach
60's Atmosphere Still Alive in Matala
The ongoing Excavations at Kommos. The whole area is fenced off
View over the Minoan site at Faistos
Agios Pavlos Beach
View onto Triopetra: The Three Rocks in the Sea. Triopetra Beach is just in the bay behind the rocks. The long sandy strip which is visible beyond it is Agios Pavlos Beach
The imposing Mountain Range looking North from the Triopetra-Beach area
27. August: Getting up early was necessary since we'd planned a longer tour for today. Our main goal is Matala, further east along the coast.
On the way, we passed through the Kourtalioti Canyon, with steep cliffs on either side. Stopping at a rest area, we spotted someone pointing a camera upward, and there we sighted a herd of mountain goats, clinging impossibly on to near vertical cliffs!
Our first stop was in Spili, a little town which has gotten onto the tour bus map due to it's long row of water-spouting "Venetian" lions fountain. They had a large free car park nearby which I feel is an great idea which should be adopted by other vehicle-plagued touristy towns. The fountain looked just like on all the pictures and was seen in a jiffy, being none too picturesque. A large souvenir industry has sprung up in town to cater to the busloads of tourists seeking a watering hole.
Moving on, we reached Matala with a cliff on one side of the beach housing caves with roman tombs in them, which were used by dwellings by hippies a few decades ago. They're all empty now but some painted remains of their presence can still be seen. We were to see more such caves on a smaller scale in Argyroupolis the next day. We had lunch at a waterfront taverna and settled for basic souvlaki and Greek coffee afterward.
We drove back over Faistos, an old Minoan town and visited the palace ruins. The site is on a hilltop and there are ok views over the surrounding countryside. It was after noon by now with the sun at it's peak and pretty hot at the site. We made our way through the ruins, but since not much is really left over to see, the site was so-so. For a quick look, you can see the site from just before the ticket booth, without actually entering it.
We returned back on the road we came and then forked off south towards Triopetra beach, named after a trio of cliffs in the water, only two of which can be seen fully from the beach. It's a nice scenic beach but a wicked wind had brewed up on the coastline and the biting dust wasn't something which would entice us into the water.
A rather rickety dirt road went on and passed high over a breathtaking view over a fantastic long, lonely, sandy beach, which we assumed was Agia Pavlos. Unfortunately we didn't find any road down to it. It was getting late by now, so we decided to make it back to Plakias.
Taking a shortcut didn't seem like a bad idea, and we did so, taking us over Drimiskos and further south until we reached a dirt road which brought us to Amoudi Beach. This met up with our by-now well-used dirt road from Amoudi beach back to the Prevelli monastery road. Thus we were back at our apartment.
Argyroupolis (28. August)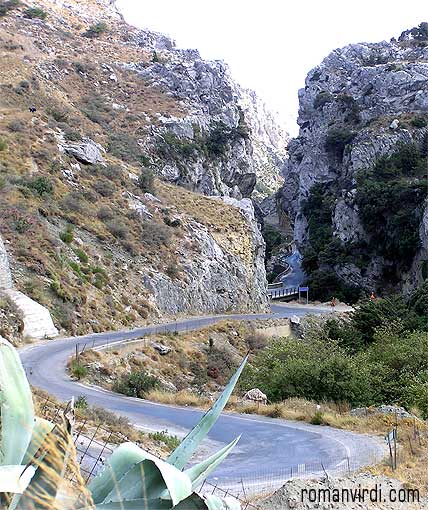 Road leading through Gorge
Argyroupolis church entrance
Entrance to the Church, Argyroupolis
Olde Doorway, Argyroupolis
Crypt in Roman Necropolis, Argyroupolis
Famous Olde Plane Tree, Argyroupolis
Waterfalls in Argyroupolis
Sunday Family Lunch in one of the large Tavernas of Argyroupolis
Altar of dilapidated Church, Argyroupolis
Monastery Facade on the way back from Argyroupolis
Monastery Courtyard
Today was to be devoted to Argyroupolis, a small village inland.
Finding the way there was guesswork and adventure, since there were no road signs showing the way. The first stop there was the Avocado shop, which distributes a free town map with the sights to see.
A walking tour along the picturesque old lanes of Argyroupolis took us past some small chapels, ruins and roman mosaics.
We were then woven into a talk by an old local who spoke German, and invited us to his home just over the street where his wife was knitting. He proceeded to explain what was to be seen in town (presenting worn postcards of the individual sites), even though he saw that I had the map explaining everything already. He explained that he had worked almost two decades in Germany at a BMW plant (presenting a BMW engine emblem). His wife brought some grapes and two glasses of Raki liquor and I was starting to get uneasy, unsure what was going to follow next. Sure enough, he said his wife does a lot of embroidery and in a flash she was a table presenting tablecloth after napkin one over the other asking if we liked any. They presented well used photos of previous customers displaying the wares. We'd already bought a cloth in Spili and this really wasn't our style so I politely declined and we left.
Our next stop was a Roman necropolis a short drive from the town center. It looked like a mini Matala. A bit further on by foot is an huge, really old plane tree, really massive. We returned to town for lunch, but deeming the main taverna none to attractive, set off for the waterfall-area.
It was Sunday and the place was, in contrast to the town itself, clogged with cars. The tavernas were bursting with people. Food was ok. Then we set off for a tour of the surroundings on foot. We found another chapel, walked up to the tavernas to see the waterfalls (none to spectacular, but nice in a small-scale way) and a church in the rocks.