Travel Pictures of Agra, India
Travel to Agra's Taj Mahal to see one the the wonders of the world. I've travelled there several times and it was breathtaking each time. There's a lot else to explore in Argra as well: The Red Fort, Idmadutdaulah, Sikandra, Fatehpur Sikri. The sights are quite a distance apart, so you'll need some sort of motorized transport to take you from place to place. One good option may be to rent a taxi for a day.
Try visiting the Taj more than once at different times including sunrise or sunset. The difference in light can create completely different atmospheres. The building has gone through it's share of abuse: in the words of A. Waldman of the NY Times (16.5.2004) "The British, along with the Jats, a caste of northern India, looted the Taj of the lavish carpets, jewels, silver doors and tapestries that once bedecked it. Lord William Bentinck, the first governor-general of India, even planned to dismantle the Taj and sell off the marble. And by the mid-19th century, according to D. N. Dube and Shalini Saran in 'Taj Mahal', a small, readable guide published by Roli Books International in 1985, the Taj had become a colonial 'pleasure resort', with Englishmen and women dancing on the terrace, and the mosque and its jawab rented out to honeymooners. Lord Curzon, who did more than any Englishman to preserve the Taj and other monuments, noted that picnickers often came armed with hammer and chisel, the better to extract fragments of agate and carnelian from the flowers. He repaired the buildings, restored the gardens, although with a British touch, and got the canals working again."
One of the most stunning buildings on the planet, the Taj Mahal.
A gigantic dream in white marble, aesthetically perfect from afar and in detail, close up
Visitors on the main platform of the Taj. In the distance you can see the entrance gate
The classic Taj picture. No cameras are allowed beyond this point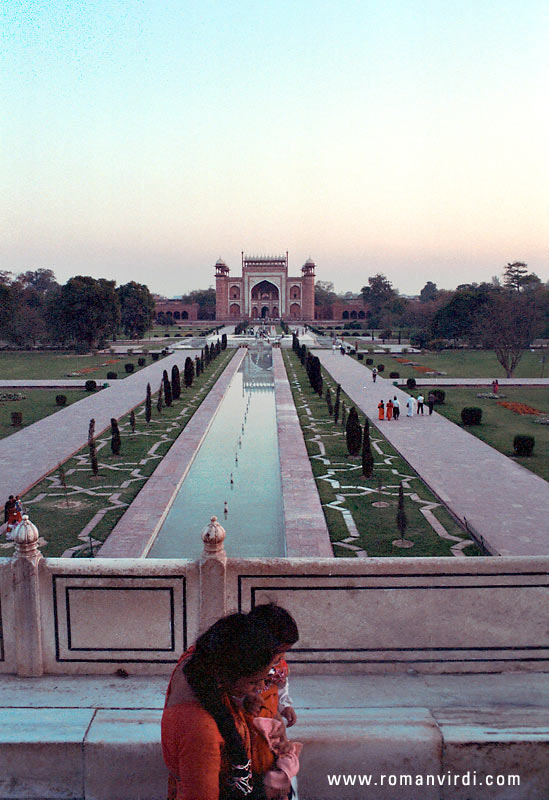 On the Taj platform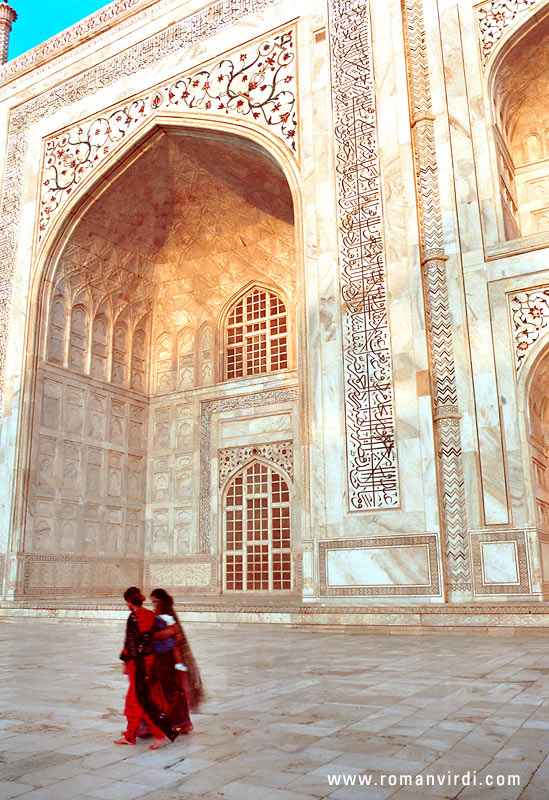 The left side of the Taj under the setting sun. Look at all the inlays (the decorations are semi-precious stone inlays in the marble, not paintings!)
Another classic Taj view
One of the minarets of the Taj. They lean slightly outwards, so as not to damage the main building in case of an earthquake collapse
View across the river from the back of the Taj Mahal. You can see some remnants of the Black Taj, which mogul emperor Shah Jehan is said to have been wanting to build for himself before he was imprisoned by his son, Aurangzeb
One of the side gates of the Taj Mahal at sunset
The back of the Taj at sunset
Perfection of design in simplicity: Arches at Sikandra
The entrance gate to Sikandra, Mughal emperor Akbar's beautiful tomb
Beehives cling like leaches to the roof of one of the side gates of Sikandra
A hallway in Sikandra
Looking out from the main chamber of Akbar's tomb in Sikandra
Monkeys at Sikandra
The Red Fort in Agra
Family pose at the Red Fort
View from the Red Fort. The slight pointed elevation in the misty horizon is the silhouette of the Taj Mahal
One of the minarets of the Idmadutdaulah tomb. It was the first tomb built with marble, paving the way for the Taj. It's scale, design and attention to detail cannot be compared to the Taj, however
View looking out from inside Idmadutdaulah
The tomb of Salim Chisti in Fetehpur Sikri, an exceptionally beautiful structure with wonderful marble screens
At Fatehpur Sikri. The artificial town was abandoned due to lack of water
Diwan-i-khas: A wonderful four-pathed passageway with space for a throne in the centre carved out of stone at Fatehpur Sikri
A doorway at Fatehpur Sikri
Continue on to Travel Pictures of Bangalore