Brazil Picture Travelogue
Salvador ñ Chapada Diamantina ñ Ilhñus ñ Cachoeira ñ Laranjeiras ñ Praia do Forte ñ Penedo ñ Recife ñ Barra Grande ñ Belo Horizonte ñ Ouro Preto ñ Sao Juao del Rey ñ Tiradentes ñ Congonhas ñ Petropolis ñ Rio de Janeiro ñ Iguañu
(If you'd rather just see my favourite pictures of BRAZIL click here)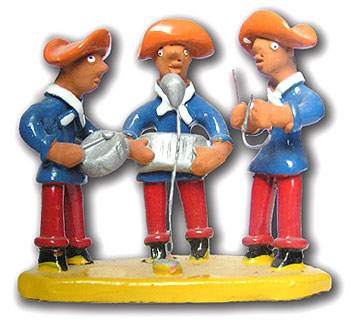 Brazilian combo in clay
Brazil is one huge amazing monster of a country, and it took us two trips of three weeks each to cover our Itinerary. The first trip tool us to northern Brazil (well, sort of) where we covered Ilheus to Recife. The second took us from Barra Grande down to Iguañu.
After reading the Lonely Planet guide to Brazil and other articles, I was expecting to be robbed (or worse) at least once, plane-crash somewhere en-route, have no clue how to communicate with the locals and what not else, but nothing of all that happened! Quite the contrary, Brazil turned out to be an amazing place! Well, we did foil a robbery attempt in Rio.
I learned that Brazilian Carnival differs from region to region (especially that Carnival in Salvador bore no resemblance to my clichñd imagery of Rio's), crawled forward on my belly over a downward-slanting rock slab hanging free in space and looking down vertically almost half a kilometer without any railing to see Brazil's highest waterfall plunging down 420 meters, experienced Rio and the one and only Iguañu falls.
Also experienced great beaches, climbed to the top of a table-mountain at last, stroked a sloth with my hand, had a huge black-and-yellow snake on my shoulders, swam in great waterfalls, snorkeled an underground cave-lake, saw marvelous restored and unrestored colonial buildings and churches, watched the locals, tried to understand Brazilian Portuguese and had a really great time.
The planned tour route: We started in Salvador and ended up in Recife
(we left out Porto Seguro)
The people were invariably very friendly, there were few pushy hawkers and generally hardly any people wanting to "know the time" or where we came from. The sing-song way locals articulate Brazilian Portuguese is delightful. During our second trip further south, we noticed some decline in friendliness and we thought the language didn't sound as nice as in the north.
We traveled by air by Varig (high marks, overall a very good airline, but now defunct) and TAM. We did Salvador to Recife and Belo Horizonte to Rio by rental car. For the rest of the trips we took local buses and domestic flights.
There are some incredibly photogenic towns in Brazil, sometimes throwing more motifs at your camera than it can handle! Brazil used to be fairly cheap, even in 2002, but 2006 presented a different story. Prices have risen markedly and so has the value of the Real, making the country fairly expensive. In 2002, Pousadas, even some of the very good ones, cost between 35-60 R$ for a double room, and we had some great meals for under 20R$ for 2 persons (but also some not that good for significantly more). This time around, around 100R$ seemed the going rate, with Rio going for R$260.
Brazil is generally very clean. There is no garbage at all in the national parks, everyone takes their rubbish with them. It's great to find urban life in streets and hotels to be just as clean.

The gap between the rich and poor is enourmous. It seems common practice in Salvador that poor kids ask to be given restovers in street side restaurants - the next day we were invited to a huge restaurant serving amazing all-you-can-eat delicacies (difficult to find even in Europe). The trips were 9.2.2002 to 2.3.2002 and 12.12.2006 to 31.12.2006.
Currency @ February 2002: Real (R$); 1US$ = 2.3R$, Dec 2006 about 1US$ = 2 R$.
My highlights
The locals grooving at Salvador Carnival
Sing-song of spoken Brazilian Portuguese
Some furious taxi-driving through Salvador
Attending a ritual Candomblñ ceremony in Salvador
Watching the locals
Brazilian friendliness
Clean National Parks, Pousadas, ..
The views from Rio de Janeiro's Corcovado and Pao de Azucar
The magic of Iguañu falls
Congonhas sculptures and "healing room"
Ouro Preto is simply awesome
The wilderness and beaches of Barra Grande.
Driving lost from Ouro Preto to Sao Juao del Rey.
Overcoming fear to crawl over a ledge to watch the waterfall Cachoeira Fumaça plunge down 420 meters
Amazing table mountains and landscape near Lençois and even climbing to the top of one
Wonderful Serrano waterfall area near Lençois, with multi-colored speckled rock and water holes
The intense blue of Poço Encantado underground cave-lake and being able to snorkel in Poço Azul
Huge underground cave system of Gruta da Torrinha with unique aragonites near Lençois
Finally seeing sloths close-up in park of CEPLAC Cocoa plantation, Ilheus
Amazing colonial buildings and churches in Lençois, Cachoeira, Laranjeiras, Penedo and Olinda
Our Marvelous colonial hotel room in "Pousada Colonial", Penedo
Waterfalls at Rio Almada near Ilheus
Never being mugged or robbed on our first trip, a robbery attempt on our second
Rash but defensive Brazilian driving
Unbelievably cheap Brazilian souvenirs (no longer)
Return-trip from Recife to Zurich taking almost 48 hours due to technical aircraft hitches.
The diary pages Northern Brazil
9/10.2 Zurich to Madrid and onward to Salvador, Carnival
11.2 Salvador/Pelourinho Carnival night
12.2 Pelourinho by day
13.2 Bus trip to Ilheus
14.2 Exploring Ilheus
15/16.2 CEPLAC Cocoa Plantation, Olivenña beach, sick
17.2 Rio Almada Trip near Ilheus
18.2 Return to Salvador
19.2 Explore Salvador again
20.2 Arrive in Lençois, see the first sights
21.2 Tour around Lençois to Pai Inñcio
22.2 Tour to Cachoeira da Fumaça
23.2 Tour to Poço Encantado, return to Salvador
24.2 Cachoeira, Playa de Forte
25.2 Turtle station, Laranjeiras
26.2 Laranjeiras, Neopolis, Penedo
27.2 Penedo to Olinda
28.2 Exploring Recife
1.3 Exploring Olinda, fly back to Sño Paulo
2/3.3 Sño Paulo hotel, on to Milan and Zurich

The diary pages Southern Brazil
Tips
For colonial buildings, we found less touristy places like Cachoeira and Penedo more interesting than famous Olinda
Penedo's Pousada Colonial's Room 21 is nice
It's helpful to visit CEPLAC early to get on a guided tour
The treks to Fumaça and Sossego waterfalls are more taxing than the others
Gruta de Torrinha near Lençois is a must is you like caves
Praia do Forte is very popular with the locals but there isn't much to see except the turtle research station. Weekends and holidays are better avoided
The sugar mill near Laranjeiras is interesting
Trying the Brazilian 'Thumb Up' by looking at the other person and keeping it up till you get an acknowledgement
We expected to hear much Samba but Brazilians seem to like pop and rock more
The Caipirinhas and Caipiroskas (Vodka instead of Sugar Cane Liquor, Cachaña) we had were prepared with ice cubes instead of crushed ice are pretty good and STRONG.
Kilo Restaurants are great for buffet food - eat what you fancy and pay by weight
Brazilians seem to always book early (busses, flights, hotels). Do so too to avoid booked-outs
Pousada owners, travel agents and handicraft hawkers can handle bargaining
Being employed for a larger company might get you a better deal (including full insurance coverage) on rental cars with corporate rates at Hertz than at local car rental dealers
Avoid Banco do Brazil's high money changing commissions (flat fee of 10$ for cash, 20$ for TC). Better at the airport or money changers. We got the best exchange rates extracting cash from HSBC's ATM's with Maestro or Credit card.