Delhi, India Travel Pictures
Delhi, the capital of India, is a monumental city. Many rulers have made it their home and it shows. The place is littered with countless gems of history combined with the ravages of modern times, a huge population, and pollution of all sorts. Amongst the highlights are the Moghul buildings of Red Fort, Jama Masjid, Humayun's Tomb, Safdarjung's Tomb, Nizzamudin; the sprawling Lodhi gardens; Hindu shrines such as the Birla Temple; British remains: The Connaught Place shopping area and Rajpath; the Qutab Minar tower and Rajghat, Gandhi's tomb. The omnipresent scooters (3 wheelers) and taxis will transport you to all the sights for modest fees. Beware of the hot summer and the following monsoon rains.
Jama Masjid, India's largest Mosque, built by Akbar, one of the great Moghul Emperors. You can climb up the left tower for a nice view
View from Jama Masjid tower
View from Jama Masjid tower onto the chaos of Old Delhi
View from Jama Masjid tower onto the enormous courtyard
In the Red Fort
The Muslim shrine of Nizzamudin Chisti, a saint who died in 1325, has a very strange atmosphere. The narrow paths leading to the shrine are paved with flower-garland hawkers. Surprisingly, it's no problem to take a picture here
This is one of the platforms of Old Delhi railway station. There are usually lots of people with amusing pieces of household belongings milling around in India's railway stations. The Indian Railways is the world's largest employer..
The iron pillar at Qutab Minar is ancient and strangely enough does not rust. Your wish will supposedly come true if you can encircle it with your arms with your back to it
Fruit sellers in one of the narrow alleys of Old Delhi
Being driven around on a bicycle rickshaw through the chaotic alleys of Old Delhi is quite an adventure!
Birla temple complex. The Birlas are a rich industrial family and philanthropists
Snake charmers outside Safdarjung's Tomb. They demanded a horrendous fee after I'd taken their picture, but I gave them a more reasonable sum
The front of Birla Temple. Since the whole complex can only be toured barefoot, everyone has to take off their shoes outside
A dragon in the park behind Birla temple. This passer-by kid was determined to be on the picture
Fountains at the back of Birla temple
Sikh temple in Old Delhi
Intricate screen carved out of marble in Old Delhi's Red Fort
Looking out at the market crowd on one side of Red Fort. In the foreground (in black) is a levitator in the process of "floating on air", you can see his head above the black sheets
Emperor Safdarjung's Tomb, one of the last Moguls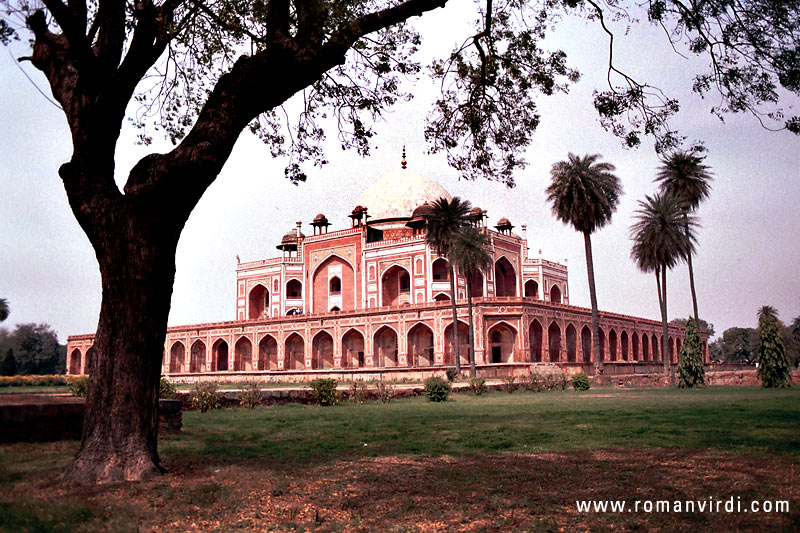 Emperor Humayun's tomb, one of the first Moguls. Aesthetically, this is one of my favourite Mogul tombs. Noblemen and other members of the court are buried in the little rooms you see at the base of the tomb. Since Muslims must bury their dead under the ground, the extravagant 'tomb' of the emperor inside the mausoleum is a cenotaph: the actual tomb is at the centre of the monument at ground level
The Qutab Minar, 72m high and built by Qutabuddin Aibak in 1199 AD as a tribute to Qutabuddin Bakhtiyar Kaki, a famous Chisti saint of the time, on the outskirts of Delhi . Initially, it was possible to climb the spiral staircase right to the top but access was restricted to the 1st platform due to dramatic suicides. Now the tower is completely closed due to a tragic accident in the stairwell involving schoolchildren
Alai Minar: A rival started building a tower larger and twice as tall as the Qutab Minar nearby to it. It didn't get completed after his death, however
Continue on to Travel Pictures of Jaipur