Bangalore, India Travel Pictures
By lying at 900 meters above sea level, Bangalore has a temperate, comfortable climate, even in summer. Despite being the high tech capital of India, it's infrastructure is in poor state and air quality, especially near the roads, is appalling. There are day or two's worth of interesting sights in the city and a day trip to Mysore adds to it's attractiveness. Bangalore is one of the few cities which still have metered auto-rickshaws. Others such as Delhi or Chennai have gone over to pre-negotiated fares. I stayed at the Hotel Empire International (click for review) while I was there, which was quite acceptable.
Justly proud fruit seller with his impeccable produce in the City Market area
Highly revered small shine
Hawker-lady in the Lalbagh Botanical Gardens
At the bull temple with the massive granite Nandi inside
Corn-on-the-cob is popular, cheap and tasty
In one of the first-floor rooms of Tipu Sultan's Palace
Exhaust fumes from unfiltered combustion engines create evening smog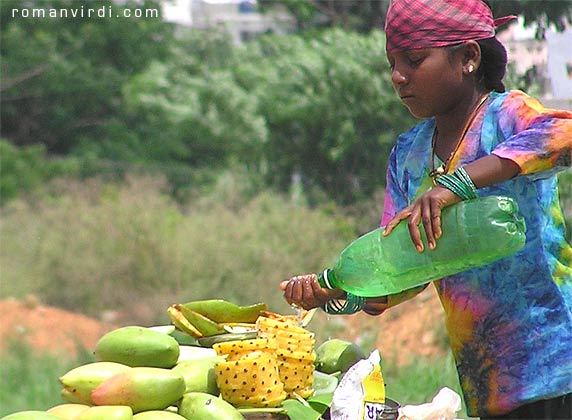 Young fruit seller wetting her wares
Fruit seller with intricately cut pineapple ready for business
The glasshouse in the Lalbagh Botanical Gardens was built in 1889 to commemorate the visit of Prince Albert of Wales to Bangalore. Designed on the lines of the Crystal Palace in London, the Glass House was built to provide a sequestered locale for flower shows.
Lalbagh Botanical Garden view
Nandi posing for a photograph at Lalbagh Botanical Gardens
A rocky hill at Lalbagh Botanical Gardens declared a national geological monument. A plaque says: "This monument is over a typical exposure of peninsular Gneiss, a geological term for a complex mixture of granite rocks extensively developed in peninsular India. The peninsular Gneiss is among the oldest rocks of the earth dating back to 3000 million years"
Inside Tipu Sultan's Palace, completed in 1791. The pillars are of teak
Lots of stuff gets transported in this fashion. Safety second (or third)
Bangalore Fort entrance. Unfortunately, it had already closed
The wares of these vegetable hawkers at City Market seem to be in high demand
Intricate decoration made out of flowers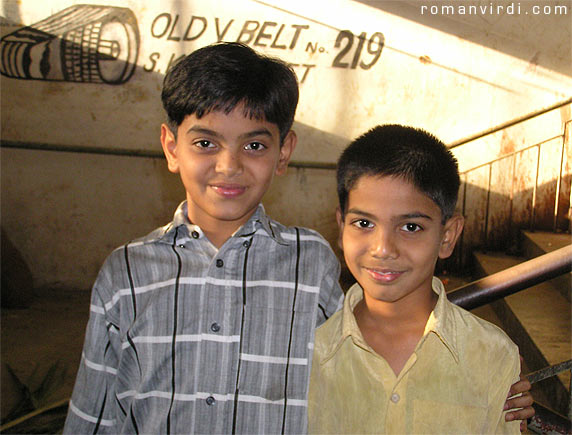 Two friends
The outer facade of the Bull Temple
The top decoration of a temple
This shop was sporting loads of glitzy, illuminated, flashing religious goods
The arches inside Tipu Sultan's Palace
Figures on the Bull Temple
Vidhana Soudha, home to the secretariat and state legislature, was built in 1954
Fruit hawkers
Auto rickshaws are a particularly notorious source of smog
Temple facade
Rather worn steps in Lalbagh Botanical Gardens
Inviting rubbish bin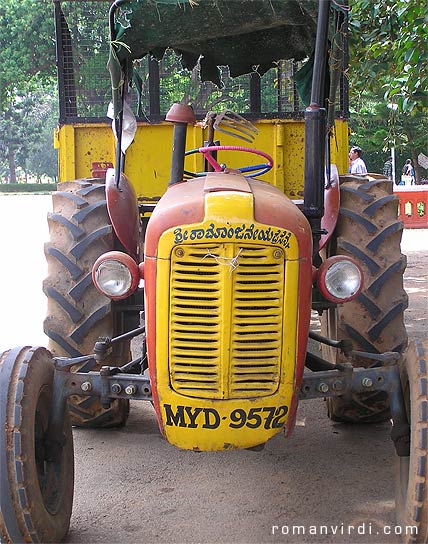 Interesting old tractor
Temple facade in in Lalbagh Botanical Gardens
Temple figure in Lalbagh Botanical Gardens
On MG (Mahatma Gandhi) road, the main commercial thoroughfare of Bangalore
The High Court at night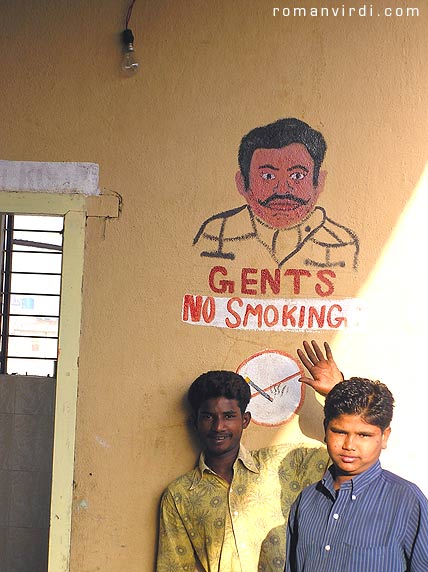 Posing duo
Inside City Market
Continue on to Travel Pictures of Chennai