Netherlands Travel Pictures
Woerden, Leiden, Haarlem
Some pictures of a 3-day road trip through parts of the Netherlands in July 2004.
Part 1 on this page: Woerden, Leiden, Haarlem
Part 2: Marken, Enkhuizen, Franeker, Zutphen
Part 3: Pictures of Amsterdam from an earlier trip

Woerden
Neo-Gothic church entrance, 19th century
Part of the Castle of Woerden
Lady looking down at the entrance of the old townhouse of Woerden
Leiden
Drawbridge over one of the canals
The Burcht, built on a small hill as a fortress in the 11th century
Nice quaint hats for these chimneys
Jean Peijnhof, former almshouse
The Stadthuis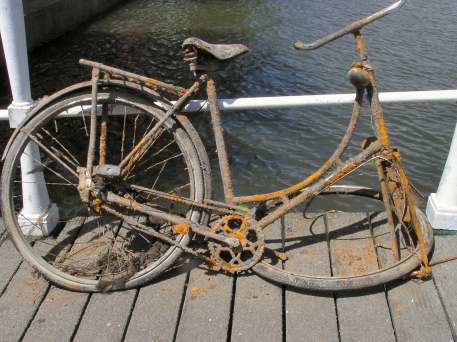 This bike has endured a bit of the elements
Aristolochia Grandiflora, the largest flower in the world, in the Hortus Botanicus, the botanical gardens of Leiden. The flower smells of rotting meat, attracting flies for it's pollination
The entrance of the "Sweating Room" in the administrative building of Leiden University, where students used to tremble with anxienty before their exams. Graduates get to sign their names on the walls, and there are thousands of them scrawled all over
Winston Churchill placed his signature on the right wall of the Sweating Room in 1946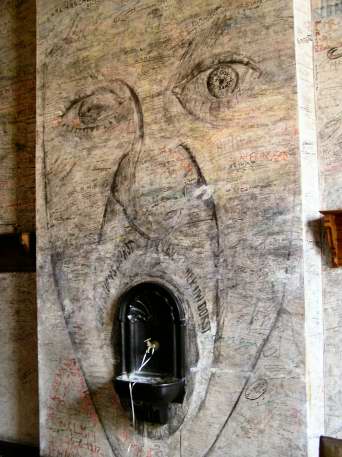 The left wall of the Sweating Room

Haarlem
HAARLEM WARNING!
Car parking fees are generously high and parking fines even more so. We received two payment orders of about 170 Euros, from Euro Parking Collection in England, 19 months after we'd been there, for alledgedly "not paying parking fees". It seems Haarlem police have outsourced their fine collection to this company in England. They threatened to raise the fee by another 65 Euros if the amount was not paid promptly. We did not pay.
Huge chimneys off Grote Markt
Bakenesserkerk tower
A drawbridge at dusk
Door
Wind vane
Haarlem canal
Shower cabin near one of the canals
Grotekerk van St Bavo
Inside St Bavo
One of the largest organs in the world with more than 5000 pipes, played by Mozart when he was 10, and Handel, the Mñller organ in St Bavo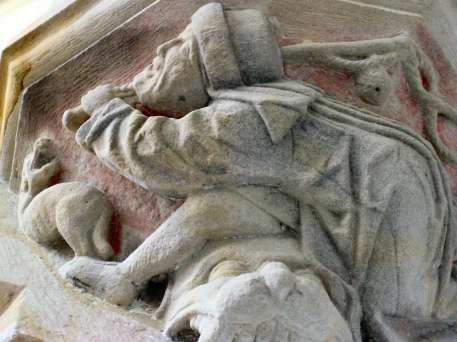 The dog chaser in St Bavo, who chased out pests straying into the church
The Vleeshaal, former meat market of Haarlem
View onto Grote Markt
Entrance of the Frans Hals Museum, a former almshouse where he spent his final years
One of the many rooms inside the Frans Hals museum
"Short Anna" Street in Haarlem
On Korte Anna street
Idylic Haarlem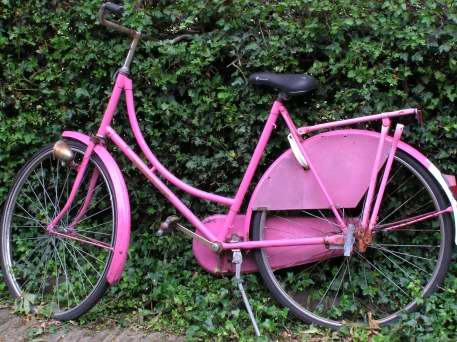 One of the many bikes around
The courtyard of Provinierhuis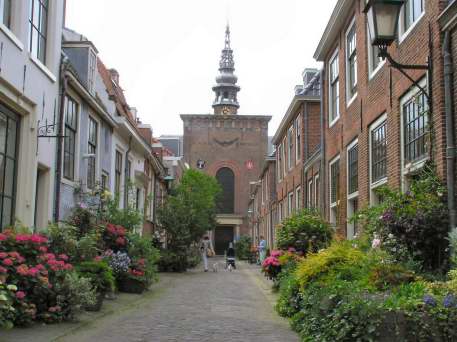 Another backstreet
Continue on to Part 2: Marken, Enkhuizen, Franeker, Zutphen