Nile, Egypt
to Edfu to Aswan by boat, then to Abu Simbel by bus, and back from Aswan to Luxor by boat. Depending on the amount of water in the river, parts of the river cannot be traveled. The highlights are the fascinating temples, buildings and tombs of the ancient Egyptians, the beauty of the river itself, the towns and cities on it's bank with their colourful streets and markets, and of course the people of Egypt, who are immensely friendly and hospitable (unfortunately, poverty and tourists with inappropriate behaviour have converted many hawkers along the beaten tourist paths to insistent nuisances).
Boat travel on the Nile is a very tranquil ride, there are no waves and seeing the banks of the river glide by is marvelous. Usually, full board is served on the boats, there's a shop on board, and a tour guide accompanies the passengers for visits to the onshore attractions. The captain of the boat doesn't look like anything you'd expect, wearing just a comfortable Jalabia (long flowing single-piece local garment for men, see the 'hawkers' picture below) instead of fancy western-style captain's garb. These pictures are from a trip in 1995.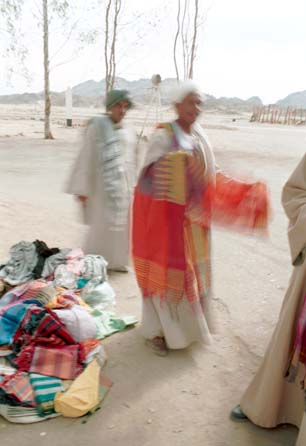 Hawkers in Jalabias selling their wares are everywhere. They start with astronomical prices and proceed to slash them with mind-boggling speed when you say 'no'. These guys were a friendly lot and speedily proceeded to tie me the local turban on my head
Pillars at Abu Simbel
Feluccas at Aswan with their beautiful large sails
The banks of the Nile
The Nile at dusk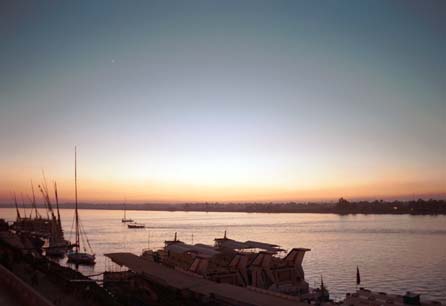 The Nile at dusk
The Nile viewed from the boat
Egyptians have a great way of lining up boats at a harbour. Passengers from boats not berthed on the shore need to pass through all the boats in between!
Giant obelisks at Karnak temple in Luxor chiseled out of a single piece of stone! The French carted off one of the Obelisks to Paris
The enormous columns at Karnak. A little of the colour which originally decorated them can still be seen
The mosque at Luxor temple to the right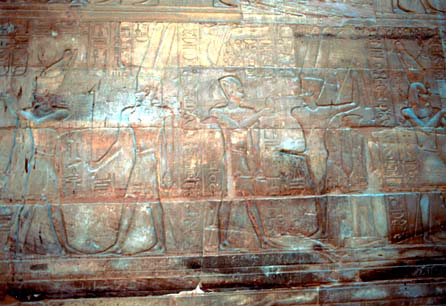 Relief at Luxor
Statue of Ramses at Luxor
The unfinished Obelisk at Aswan. It was abandoned after a crack appeared. Here it can be seen how Obelisks were cut out of stone in a horizontal position
Kom Ombo at night
Boats on the Nile at Kom Ombo at night. You can see the monuments lit up at top center
Felucca at Aswan viewed from (Lord) Kitchener's Island. It is said that the English word 'OK' is derived from the initials of 'Old Kitchener' which the man himself used to approve documents. The huge Aswan Dam is nearby, a military zone where photography is strictly prohibited
Locals posing during a sightseeing tour. It seems they pose more willingly for pictures in Egypt than in other Muslim countries
The desert road from Aswan to Abu Simbel. The bus starts in the middle of the night and stops on the way to view the sun rise over the flat desert
The four Gods in the sacred sanctuary at the end of the temple of Ramses II at Abu Simbel
The world-famous Abu Simbel Facade. The whole complex is an artificial hill, constructed when Abu Simbel was lifted to save it from the waters of the Aswan Dam. The hill itself is hollow with a lot of concrete and tour guides usually take you for the interesting look inside
Temple corridor at Abu Simbel
Facade of Abu Simbel with guard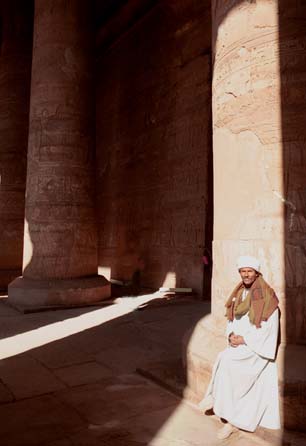 Guard at Esna
Temple of Esna. The whole complex is many meters below street level. Somehow, this was one of my favourite temples
The large pillars of Esna's temple
The wonderful temple of Hatshepsut at Luxor. This picture was taken before the massacre of tourists by Islamic militants which took place here. It is possible to walk mountainous trail to the Valley of the Kings from here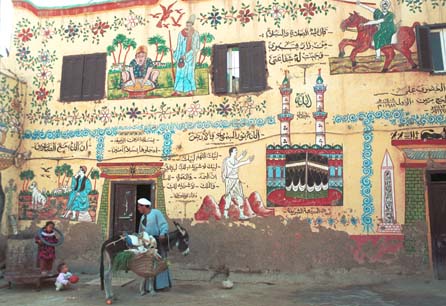 A colourful house near Luxor depicting daily life, including a Hajj to Mecca at the center
Temple at Edfu
Kids waving
The entrance to the Valley of the Kings at Luxor. It is here that many of Egypt's famous kings were buried, including Tutankhamun
Just outside the Tomb of Tutankhamun in the Valley of the Kings, which is rather small comparing to some of the other tombs. The sarcophagus of Tut is inside, including his mummy, which rests in a wooden box inside the stone sarcophagus. All other objects including the gold mask removed by Howard Carter have been moved to the Egyptian Museum in Cairo
The Sarcophagus of Ramses VI in the Valley of the Kings
The way up to the tomb of Tuthmosis III. I highly recommend to see this one
The local market at Esna. Some of the shopkeepers can be aggressive in selling their wares to tourists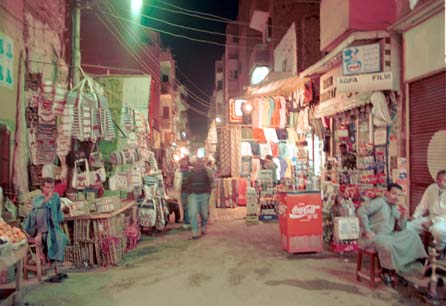 Aswan Market at night. I had some difficulty finding the boat when returning, as their captains can change berth whenever other boats arrive or depart
Philae temple, which is on an island and can only be reached by boat. It was saved to higher ground before the Aswan Dam's higher water level could drown it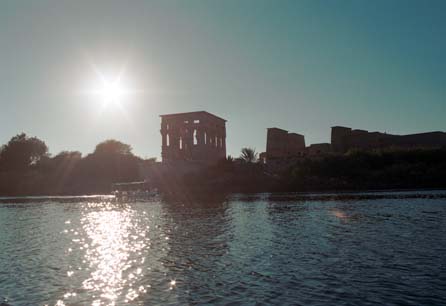 The square kiosk at Philae