Panama Travel Pictures
Changuinola/Almirante ñ Bocas del Toro ñ David/Boquete ñ Panama City ñ Panama Canal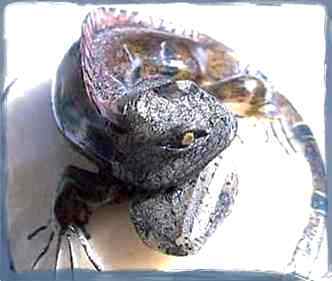 Lizard made out of Tagua
(If you'd rather just see my favourite pictures of PANAMA, click here!)

I found Panama to be full of contrasts. The "genuine" Caribbean feeling of Bocas del Toro's houses, landscape and people in the northeast; the mountainous landscapes and people in Boquete making me feel I was in Europe; and the strong American influence in Panama City, amongst others.
We entered the country on foot from Costa Rica, did some good snorkeling in Bocas, took our first (unplanned) national flights of our trip through Latin America in Panama, saw and sailed through part of the marvelous Panama Canal, and visited the old part of Panama City called San Filipe.
You could buy almost anything in Panama City (if you knew where).
Salsa was more prevalent here and people danced to it more than anywhere else on our trip through Latin America.
Panamanians are generally very friendly people and would understand English more than in any of the other countries.
The Panamanian currency is synonymous with the US$. Prices are generally quite acceptable. This trip is from 6.5.2001 to 12.5.2001.
Our route through Panama (the map is clickable)
My favourites of Panama
Crossing border to Panama on foot from Costa Rica
Lots of Salsa music (Taxi drivers drumming to the beat in their cars)
Cheap cokes
Panamanian currency being interchangeable to the US Dollar (officially called 'Balboa')
Taxi-Drivers always saying 'OK' (for example when you thanked them at the end of a ride)
Toilet experience in run-down border bar with mural of naked woman on the wall
Boat and Taxi rides from the Costa Rican border to Bocas del Toro
Flights from Bocas to David and then to Panama City with local carrier
Bare-bones Bocas local airport with large reusable plastic "boarding cards"
Beautiful garden 'Mi Jardin es su Jardin' in Boquete
Lowlights of hilly Boquete. We were expecting much more
Caribbean feeling, houses and people in Bocas del Toro
Annewien on the beach in Bocas
Snorkeling with Annewien for the first time in Bocas
Snorkeling tour in Bocas with dripping-wet ride back in the rain
Tiny bright orange-spotted frogs in Bocas tour
Impressive Panama Canal transit
Historic colonial Casco Viejo buildings
Beautifully and lovingly painted local buses in Panama City
High-rise skyline of Panama City
Locals partying in Panama City Marriott Hotel Salsa event
Fight between two taxi drivers in Panama City
Local violent unrest due to hike in bus fares
Our luxurious Holiday Inn Suite in Panama City
Humid heat of Bocas and Panama City
"Subzero" air-conditioning (Canal Museum, Internet Cafe) in Panama City
Noon-day heat on Panama City Causeway
Currency: Balboa; 1US$ = 1 Balboa
The diary
6.5 Puerto Viejo to Bocas del Toro (Panama)
7.5 Bocas del Toro
8.5 Bocas del Toro
9.5 Bocas to Boquete
10.5 Boquete to Panama City
11.5 Panama City
12.5 The Panama Canal, Panama City to Caracas (Venezuela)
Tips
Snorkeling around Bocas del Toros (take a boat) is great. There are nice corals, sponges and fish
Boquete is overrated and a tad too European
Flights in Panama are cheap and a good alternative to bus travel
Casco Viejo (old town of Panama City) is nice to stroll through crime is present
It's expensive but worth it to take an actual Panama Canal (partial) transit by boat
Panama has a lot of air conditioners, so warm clothing is useful if you're sensitive to them
Las Blas Islands are supposedly great, but we missed them.