Sardinia Pictures
Sardinia, belonging to Italy, is the second largest Island in the Mediterranean. It has marvelous white-sand beaches with turquoise water rivaling the Caribbean, ancient historic sites, cool landscapes, wide open wild unpopulated spaces, nice wines, and a very friendly, helpful populace (more so than on the mainland, we thought). We started off in Cagliari and explored parts of the South, including Pula, Nora, Chia, Villasimius with Isola de Cavoli and it's surroundings. We missed Su Nuraxi, the Barbagia Sant'Antioco and all of the North this time. The island is large and due to it's hills, travel took longer than I'd imagined despite the good roads. The speed limit is mostly 80km/h out of town, and even though most drivers seem to ignore it, we saw several collections of Carabinieri checking traffic.
This trip was 4-11 June 2005.
Pictures of Sardinia, Part 1 of 2
Villasimius facade
Mural in Muravera
Tire specialist touting his services outside Cagliari
Golden fields outside Cagliari
This beach scene just outside Chia could be in the Caribbean. Great white-sand beaches and clear, turquoise water galore
Gorgeous landscapes on the Costa del Sud, east of Chia
A bay at the Costa del Sud, east of Chia
A serious discussion on the town square in Pula
Cafe Van Gogh on the road from Cagliari to Villasimius
The theater in Nora. The site was founded by the Phoenicians in 8th century BC, later inhabited by the Punics and Romans. It's at a wonderful location on a land tongue jutting out to sea. A refreshing sea breeze blows over the whole area which has water on 3 sides of it
The Maby II, a wooden sailing boat constructed for coral collection in 1944 offers day-trips from Villasimius around Isla dei Cavoli. The wind was too strong to unfurl the sails the day we went, unfortunately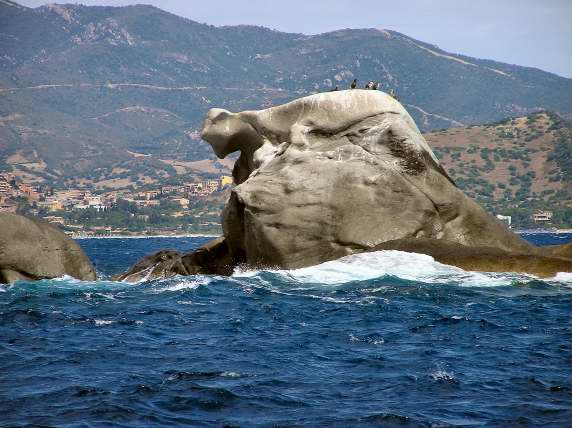 Bizarre stone formation in the sea off Villasimius
One of the many murals painted on houses in Muravera
Arch above one of Cagliari's town-wall entrances
Olde Cagliari facade
Nuraghe Diana, in Quartu Santa Elena, near Cagliari, somehow looks otherworldly...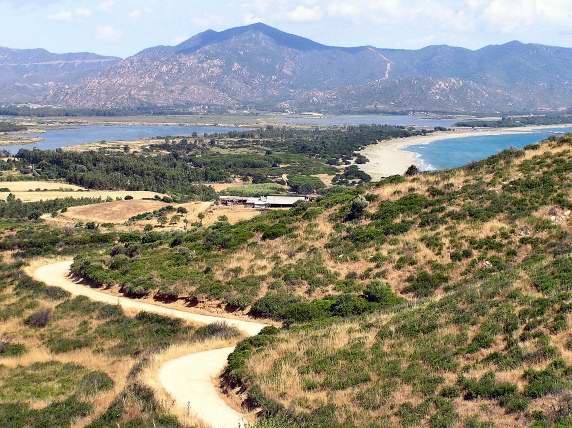 Wild landscapes near Stagno di Feraxi in South Eastern Sardinia require driving along a bumpy, stony, untarred path
Golden landscape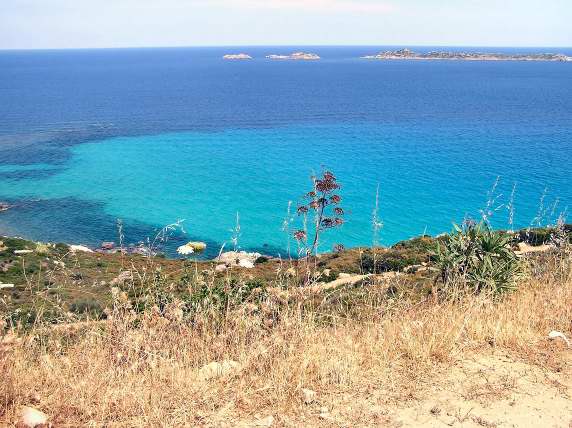 Along the costal road from Villasimius to Costa Rei. The long island is Isla Serpentara
Continue on to Pictures of Sardinia Part 2